Fox Lake Board Up Services
For over 20 years, we have provided residents and businesses in the Fox Lake area with emergency maintenance services. We are on-call 24/7, delivering quick and secure solutions for broken windows, missing doors and a wide variety of other scenarios.
Window Board Up Company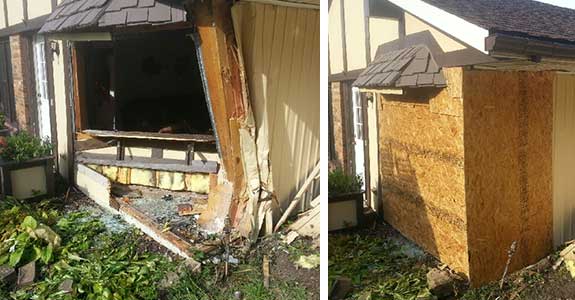 When your home or business is vulnerable, it can be extraordinarily disruptive to your daily life. A broken window is a big enough problem on its own, but each of these scenarios can create even greater problems the longer they are left unaddressed. Unpatched openings in your home or business can invite weather damage, theft or vandalism. It is important to deal with these problems head-on. If you have an emergency maintenance issue, don't wait for things to get worse, contact the professionals at Top Board-Up for the very best property window board up services in Fox Lake, IL.
We offer board-up services for all kinds of property damage, including fires, explosions, storm damage, broken windows, broken doors, vacant buildings and much more. In addition, we can provide winterizing services for homes and perform general cleanup services for damaged homes or businesses. People choose Top Board-Up for their emergency window board up services in Fox Lake, IL for a number of reasons:
24/7 emergency response throughout Fox Lake and surrounding area.
Fully licensed, bonded and insured board-up services.
Prompt board-up service can speed up insurance claims.
Over 20 years of experience.
We're known and respected throughout Fox Lake.
Don't Wait, Contact Top Board-Up Immediately
Every second you wait, your home or business is vulnerable to further damage from weather, vandals or theft. Secure your premises by contacting Top Board-Up right now.